The Difference Between A Storm Chaser And Roofing Professional
The Problem With Storm Chasers
A subpar contracting job has the dual frustration of not only still dealing with the issue that you were struggling with in the first place, but also having to pay for potentially two sets of contractors. Because of this, when you have roof damage after bad weather, you want to make sure that you hire a proper contractor over a storm chaser.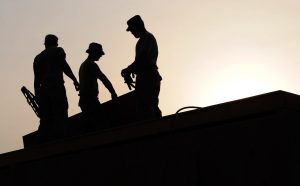 Generally, storm chases are smaller companies that tend to track a certain area for storms powerful enough to lead to potential roof damage. After the storm passes, they come to the area to offer their services. This sounds harmless enough, but the services they pay are generally slapdash jobs that don't have a formal contract involved. By doing this and only getting paid in cash, they leave no paper trail for people to track when they realize the poor job that has taken place.
Along with the fact that there's no guarantee a storm chaser will actually fix your roof, they may ignore building codes in their work. This could potentially raise issues like voiding your current insurance coverage or your warranty on an existing roof. 
Telling The Difference
For both your safety and bottom line, you want to avoid working with storm chasers at all costs. But how can you tell the difference if you're in a rush? Any proper roofing professionals in Colorado should have licenses, accreditation, and insurance to work on a roof properly and safely. These details should always be easy to find on a company website, but you can also ask for proof over the phone or in person. Patience is also a virtue here. You don't want to go with the lowest bidder or the first person who comes to your door after a storm. Gather estimates from a few contractors first.
Contact Horn Brothers Roofing For Roof Repair And Restoration
If you want a proven, trustworthy set of professionals for your next roofing project, be sure to talk to Horn Brothers Roofing today.
We have an A+ rating with the Better Business Bureau, and are also members of the Colorado Roofing Association.