Common Myths About Metal Roofing
The Truth About Metal Roofs
Over the past few years, roofs constructed out of metal have become a preferred roofing style because of their unique durability. Metal roofs resist chalking, cracking, and fading no matter the conditions.
And, when something gets that much attention, misconceptions start to pop up. In this post, we are going to debunk the four most common myths about metal roofing.
Myth #1: Metal Roofs Attract Lightning
This is one of the most common myths around a metal roof. Even though metal conducts electricity very well, it doesn't attract it in any way. On the contrary, a metal roof is, in fact, safer than other roofing alternatives. This is because the material doesn't combust, so you don't have to worry about the roof catching on fire if a lightning bolt ever strikes it.
Myth #2: Metal Roofs Rust Easily and Are More Prone to Hail Damage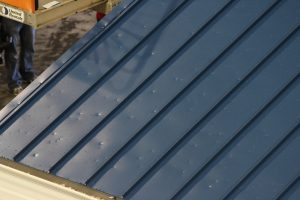 Contemporary metal roofing comes with an aluminum or zinc coating under the paint, making it resistant to rust. And, while huge hailstones can dent a metal roof, normal-size hail will not. With textured roofs, minor denting is even less perceivable.
Myth #3: You Can't Walk on A Metal Roof?
You can, but just be careful; otherwise, you will cause damage. Check with your roof installer the manufacturer's instructions.
Myth #4: Metal Roofs Are Extremely Noisy in The Rain
This myth comes from the association of the sound that rain makes on old barns and worn buildings. But contrary to those old buildings, modern roofing constructions have a solid deck. This means that roofs are installed over an existing roof with attic space and insulation, so it is no louder than other roof types; it may even be quieter.
We hope this information clears some things up regarding metal roofing! As one of the top roofers in Colorado, the metal roofing systems offered by Horn Brothers Roofing come with extended manufacturer warranties so you can have peace of mind.
We also offer DaVinci Roofscapes and many other quality roof products. To learn more about our metal roofing alternatives call our expert roofers on (303) 274-1111.