How To React To Your Damaged Commercial Roof
Assessing The Damage
Being a business owner means that you have to always be ready to tackle issues when they arise, and damage is no different, even when it applies to your commercial roof. So, after a heavy storm or accident, how should you react when it comes to your commercial building. As a start, when you realize your commercial roof has some damage, the last thing you want to do is panic. Begin by carefully surveying the affected areas. It may not be safe to try and go up on the roof yourself, so it may be a better idea to have binoculars on hand to take a close look at roof for obvious signs of damage.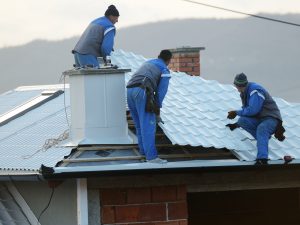 If you have the necessary training and equipment to go on the roof yourself, besides obvious signs of damage like broken shingles or holes, try to look for subtle signs of damage as well, like concentrated water spots. These may represent a potential leak in your building, and the faster that you take care of these, the lower risk you have of getting water damage inside your building. In some cases, you can test if a shingle is compromised, even if it isn't broken, by slowly lifting it with a flat bar. If it begins to crack, you may want to consider a replacement.
Getting Professional Help
With this said, after the scouting step, what comes next? At this point, you're ready to look into roof repair in Denver to tackle this issue. When you are scouting potential contractors, make sure to find not only professionals with credibility and references but also past experience on commercial projects. Don't be afraid to ask upfront if you're not sure. For the future, it may be worth looking into installing things like protective roof covers to try and minimize future risk. This is especially the case if your building is in an area with regular extreme weather.
Contact Horn Brothers Roofing For Roof Repair And Restoration
Have trouble with your current roof project or repair? Be sure to talk to Horn Brothers Roofing today. We can help your commercial building look good as new, as well as supply replacements as needed.