Unified Steel Stone Coated Shingles: Protecting Colorado Homes from Extreme Weather
Colorado has recently witnessed an unprecedented spring and summer of extreme weather, leaving homeowners searching for effective ways to safeguard their properties. Hail damage, in particular, has been a major concern, prompting the demand for superior roofing materials. Unified Steel Stone Coated Shingles are the product of choice when it comes to hail resistant shingles. These innovative shingles have achieved the highest hail damage prevention rating, known as the VSH (Very Severe Hail) rating, making them an excellent choice for Colorado residents.
Unparalleled Protection
Unified Steel Stone Coated Roofing offers homeowners a lightweight yet durable solution that guarantees exceptional performance and protection. These shingles have passed the VSH rating, making them one of the few roofing options in the market that has passed this classification and, therefore, capable of withstanding very extreme hail. This ranking makes it the best defense option against Colorado's unpredictable weather patterns.
Classifications and Benefits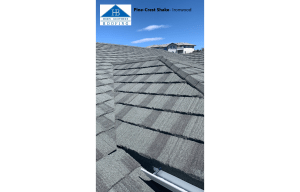 Unified Steel Stone Coated Roofing comes with various classifications to ensure maximum defense against fire, hail, and wind damage. They are available in popular profiles and colors, making them suitable for any architectural style. On their own, they meet the requirements for a Class A fire rating in residential homes. However, incorporating a specific underlayment not only enhances their fire protection capabilities, but also qualifies them for a Class A fire rating in commercial properties.
They have also been tested and certified to meet the impact-resistance requirements of the VSH classification. This means that Unified Steel Stone Coated Shingles offer unparalleled protection against even the most severe hailstorms, providing homeowners with peace of mind.
Beyond hail protection, these shingles meet the performance standards for High Velocity Hurricane Zones (HVHZ) in coastal Florida regions. This versatility makes them an attractive option for homeowners seeking comprehensive protection against a range of extreme weather conditions.
Insurance Premium Reduction
In hail-prone regions like Colorado, installing Unified Steel Stone Coated Shingles with a Class 4 Hail rating may lead to a reduction in insurance premiums of up to 25%. It is recommended to consult with your insurance carrier, roofing contractor, and energy provider to determine the exact rates applicable to your home. The superior durability and impact resistance of these shingles makes them a valuable investment that can potentially save homeowners money in the long run.
Colors and Availability
Unified Steel Stone Coated Shingles come in a wide range of colors, ensuring there is an option to complement any architectural style. To confirm the availability of specific colors and profiles in your area, it is advisable to consult with roofing professionals such as Horn Brothers Roofing.
Colorado homeowners facing the challenges posed by extreme weather conditions, particularly hailstorms, can now rely on Unified Steel Stone Coated Shingles for the utmost protection. With their VSH rating, Class 4 Impact classification, and extensive color options, these shingles offer a lightweight yet durable roofing solution. By choosing Unified Steel Stone Coated Shingles, homeowners can fortify their properties against the elements and enjoy peace of mind, knowing their homes are better protected against even the most severe hailstorms. 
Horn Brothers is proud to offer this superior roofing system to Colorado homeowners – contact us today to learn more!