The Best Shingles for Your Roofing Project: Popular Options and How to Make Your Decision
The best roof covering for your roofing project will depend on your location, the size of your home, and many other factors. When you're ready to choose the right shingles, take your time to consider the pros and cons of all your options, so you can make an informed decision that will last a long time without costing you extra money or effort in the long run.
No Matter What You Choose, Here Are Some Factors to Consider
When selecting a roof covering, it's important to consider factors such as environmental impact, durability, fire resistance, warranty, quality, and how those all fit within your budget. If you need help deciding on which type of shingle is best for your needs, contact an expert like us at Horn Brothers Roofing. We've put together some general information below about the best roof covering on the market and information that might help make your decision easier when it comes time to selecting materials.
Environmental Impact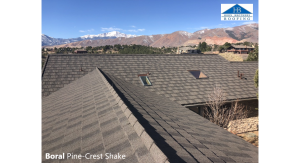 As with any home improvement project, consider your impact on Mother Nature. Since asphalt shingles are made of petroleum products, they can be one of the worst offenders in terms of environmental sustainability. Metal roofs have a much lower carbon footprint than other options, but can be costlier than other options. Consider adding solar panels to your roof to make your house even more eco-friendly.
Durability
The shingles that are most durable are the ones made of asphalt or synthetic rubber steel, or concrete. They're great at protecting your roof from the elements, including strong winds, precipitation, ultraviolet rays, and more. These types of roofs can last up to 50 years before they need to be replaced. 
Fire Resistance
Colorado is no stranger to wildfires. Class A ratings are the most fire-resistant ratings when it comes to looking at roof shingles. Common Class A roof coverings include asphalt fiberglass composition shingles and concrete or clay tiles. Some materials have a "by assembly" Class A fire rating, meaning that additional materials must be used to maintain the fire rating. For example, a roof can be made fire resistant with products such as solar hide and versa shield.
Warranty
When you're looking at different types of shingles, look closely at warranties — which usually range from 10 to 50 years — and ask yourself how long you want your roof to last.  Then compare that with how much longer you plan on living in your home (most people move within 15 years). If you have a particularly old house or are concerned about environmental impact, consider choosing a more eco-friendly option like metal shingles. These tend to be pricier than traditional asphalt products but also offer better protection against hail and wear and tear over time.
Quality
Every shingle has different features that make it special, but you'll also want to consider the overall quality of the product. The best shingles are designed not only to look great but also to last a long time and resist damage from natural elements. These include stone-coated steel, synthetics, and concrete.
Contact us at Horn Brothers Roofing today for all your residential and commercial roofing needs!