How Much Do Stone-Coated Metal Roofs Cost?
Stone-coated steel roofing has become a hot new roofing material because of its long-lasting abilities and strength through severe weather conditions. In Cherry Hills Village, Colorado, having outstanding protection is necessary as harsh winds and rain are very prominent. If you're not sure if you should invest in steel roofing because of the price, this will give you a better idea of what the expect.
What to Expect in Terms of Costs
There are several different expenses to keep in mind when you're thinking about installing stone-coated steel roofing. Not only are there materials you have to buy, but there are installation fees on top of that.
Knowing what the total cost of a new roof is can help you budget accordingly. To install a brand new stone-coated steel roof it is around $8,000-$15,000, depending on the size and complexity of your roof.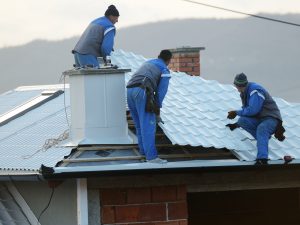 Factors that Affect Cost
Numerous factors can affect the overall cost of a metal roof. Anything from the specific materials used to the panel thickness and everything in between is costly throughout this process. Other factors include the type of coatings that allow for better corrosion protection, and how the roof is installed.
Other Additional Costs
Additional costs are often things that aren't thought of before wanting to replace your roof. Removing old roofing can be done yourself, but it is better left to professionals to handle this job. Regardless, this task will have to be done as you cannot add another material to old roofing. 
Obviously, if you have a multi-story home you're going to need more roofing installed than a single-story home will need. They often take more crew and materials to cover the entire roof.
Other factors can include the shape of your roof, the roof pitch, and the time of year you plan on getting the roof replacement completed.
Horn Brothers Roofing will help you with any type of roof replacement. Contact them today to connect with a skilled professional on the different materials available.