What Role Does The Edge Of Your Roof Play?
It's most likely that you, as a homeowner, have a basic understanding of the layers that go into your roof, from the base wood to the layer of shingles. One thing that plays a key role is the edge of your roof. This keeps water that goes off of the shingles from damaging your water or foundation. This is accomplished by making sure that you keep these maintained with roof repair in Denver.
Understanding The Edges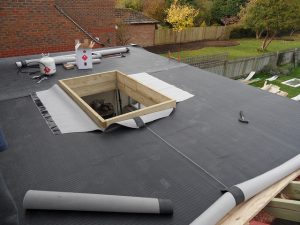 There are two types of roof edges that you can choose from, rakes or eaves. A rake is a sloped edge, where the roof hangs over your wall. The eave is the horizontal edge. Both of these are needed in order to make sure that water doesn't splash up against the side or bottom of your own, but also have smaller components. One example is the drip edge. These are also called eaves flashing, and are metal strips that help guide water into the gutters. Another component is something called the fascia. A fascia goes under the drip edge and is also attached the gutter. Think of it as a key component that holds the more functional aspects up. In terms of gutter care, fall is an essential time to work on things, as this is when most of the plant matter gets in gutters.
Beyond The Edge
While focusing on the shingles and looking out for leaks, the edge of the roof is every bit as important. However, the edges are only one part of your roof that professionals may end up working on during a repair or restoration. If you are looking for a top roofing company in the Denver area, contact Horn Brothers Roofing today for a free estimate so we can help you with any issues you may have. With decades of combined roofing experience, we bring a combination of experienced and certified installers out in the field as well as administrative personnel with the skills to manage your installation.