Choosing the Right Color for Your New Roof
Getting a quality roof replacement is a big investment in your home. It improves your curb appeal, raises your property value, and gives you decades of peace of mind. There are a number of important decisions you will have to make in this process, starting with choosing a contractor and choosing the materials they will use. But don't overlook another important decision – what color your roof should be.
Existing colors
You will want to give some thought to the current exterior colors of your home and what will mesh well with that palate. Generally speaking, you don't want your roof to stand out, but to be a complementary color to the siding and windows. Lighter shades often have the effect of making your home look larger, while darker colors will make it look cozy and comfortable.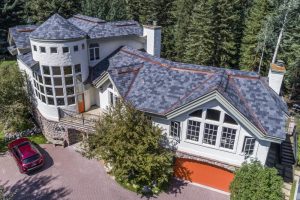 Architecture
Not all colors or roof styles will look right with all homes. A classic, traditional looking home will often be complemented by a similarly classic style of roof, while a bold and modern home might be well suited to something more exotic. Thinking about the style you're working with, as well as the style you're going for, will help you to find the perfect look.
Temperature
You might not have thought of this one, but the color of your roof will actually have an impact on the temperature in your home. Darker shingles will attract and absorb sunlight, warming the air in your home as well. Lighter shades will reflect more light and keep your home cooler. So, your choice in shingle color will likely have an impact on your heating and cooling bills.
Finding the perfect look for your new roof is an important aspect of this important investment. Fortunately, Horn Brothers Roofing serves Denver, Cherry Hills Village, and Highlands Ranch with an exceptional selection of roofing options. Their roofing experts can help you find the perfect look for you while fitting it into your budget and giving your family decades of peace of mind under a new roof.