The Price Of A Neglected Roof
A basic principle of homeownership is that the fastest way to turn a minor expense into major expense is by ignoring it. Nowhere does this hold as true as much as your Westminster roofing. While you may end up thinking that you're saving a lot of money by doing this, you're incurring potential short-term and long-term expenses for each time you see a problem with your roof but don't act.
What Happens When You Neglect Your Roof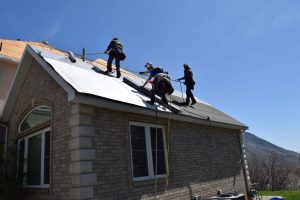 The first consequence that you're probably going to see when you let your roof go is probably going to be a leak. This is because when it comes to leaks, you don't need a huge hole or similar problem in order to get a leak. The longer your leak ends up not being attended to, the more likely it is to grow. What makes this especially difficult is if you have a multi-layered roof. If this is the case, you may have to actually physically go up to your roof and take a look to actually catch a leak.
Another potential problem in both the short- and long-term is going to be reflected in your energy bills. Water can come in through a leak, but these same holes also mean that cold air will escape during the summer months as well. This means that you need to turn up the air conditioning to compensate, which means more expenses for you. If left uncared for, roofing troubles can also mean making room for mold as well as pests.
Getting Added Help
The last thing you want when it comes to something like your roof in Colorado is to end up spending a lot of money and time on an issue that you could have taken care of earlier. If you are looking for a top roofing company in the Denver area, contact Horn Brothers Roofing today for a free estimate so we can help you with any issues you may have.