How to Choose the Right Shingle
Most people probably don't put too much thought into the roof of their house. As long as it's doing the job it's supposed to do, then they are happy. However, not all roofing materials are made the same, and you can improve the curb appeal of your home by picking the right shingle and shingle color.
When it comes to finding the right shingle for your home, below are some things you should consider.
Cost
Even though most people don't put a lot of thought into their roof, this is one area that has a major impact when it comes to deciding what they want. If you're like most people, you probably aren't going to go for the most expensive shingle that exists in the world. But you probably also shouldn't go for the cheapest, either. It may be cost-effective now, but if it has to be replaced sooner rather than later, then you aren't saving money in the long run.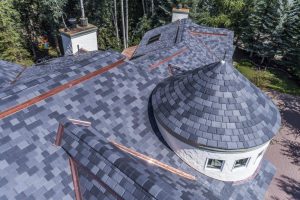 Finding a shingle that is middle of the road that will last through whatever the Colorado weather has to throw at it can be beneficial. Talking to a professional and getting their insight on which shingle is best can be helpful. They will probably even have a variety of types to choose from.
Type
There are many different types of shingles, from asphalt to wood to tile. Each of them has a different look and will protect your home in a different way. Again, this decision is probably best made after talking to a professional and seeing which type will hold up in your current environment. However, you may also decide that you like how a certain type looks on your home, so that may be the deciding factor.
Color
You may not realize it, but changing the color of your shingles can make a huge impact on how your house looks This means that it can be as overstated or understated as you wish. You can choose a color that compliments your home and makes it stand out or it can be a subtle color that fades the roof into the background.
No matter what choice you make when it comes to the shingles on your home, make sure that you are happy with the finished product. Also make sure that you choose a top roofing company to get the job done right.
At Horn Brothers Roofing, we have the ability to make your home look amazing and help you choose the right shingle.